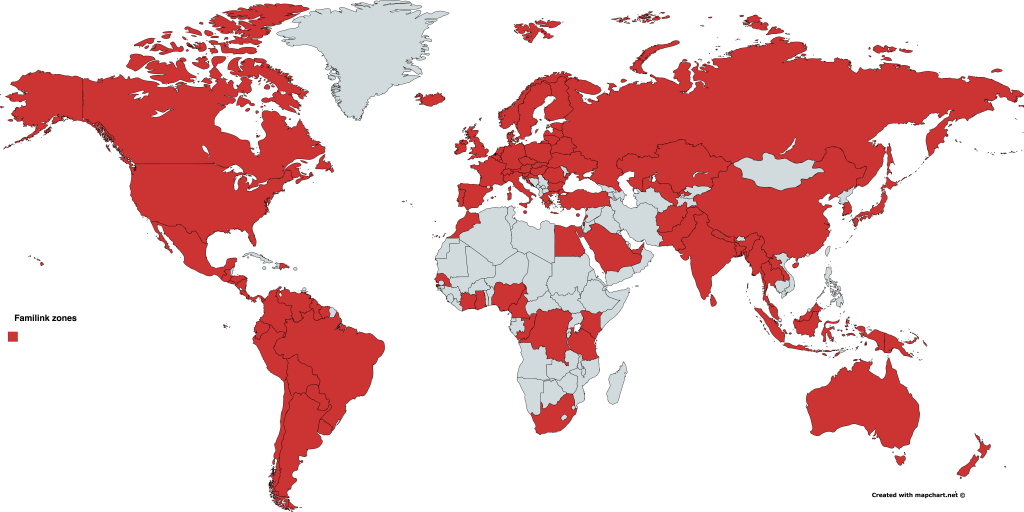 Familink est un cadre photo connecté à Internet en 3G. Nous avons des accords avec plus de 500 opérateurs qui lui permettent de fonctionner à peu près partout mais malheureusement certaines zones du monde restent encore non couvertes. Cette page vise à donner une liste des pays couverts.
En revanche pour envoyer une photo, on peut être n'importe où dans le monde à condition d'avoir un accès à Internet.
La liste ci-dessous est la liste des zones où le cadre Familink peut fonctionner (Septembre 2016) :
Afghanistan
Albania
Anguilla
Antigua and Barbuda
Argentina
Armenia
Aruba
Australia
Austria
Azerbaijan
Bangladesh
Barbados
Belarus
Belgium
Belize
Bermuda
Bolivia
Brazil
British Virgin Islan
Brunei Darussalam
Bulgaria
Burkina Faso
Burundi
Cameroon
Canada
Cayman Islands
Chile
China
Colombia
Congo
Congo Democratic Republic
Costa Rica
Cote de Ivoire
Croatia
Cyprus
Czech Republic
Denmark
Dominica
Dominican Republic
Ecuador
Egypt
El Salvador
Estonia
Faeroe Islands
Fiji
Finland
France
Georgia
Germany
Ghana
Gibraltar
Greece
Greenland
Grenada
Guatemala
Guinea
Guyana
Honduras
Hong Kong
Hungary
Iceland
India
Indonesia
Ireland
Israel
Italy
Jamaica
Japan
Jersey & Guernsey – Channel Islands
Kazakstan
Kenya
Kuwait
Kyrgyzstan Republic
Laos
Latvia
Liechtenstein
Lithuania
Luxembourg
Macau
Malaysia
Malta
Martinique
Mexico
Moldova
Montenegro
Montserrat
Morocco
Myanmar
Nauru
Nepal
Netherlands
Netherlands Antilles
New Zealand
Nicaragua
Nigeria
Norway
Pakistan
Panama
Papua New Guinea
Paraguay
Peru
Philippines
Poland
Portugal
Puerto Rico
Qatar
Republic of Korea
Romania
Russian Federation
Rwanda
Saint Kitts and Nevi
Saudi Arabia
Senegal
Serbia
Singapore
Slovak Republic
Slovakia
Slovenia
South Africa
South Korea
Spain
Sri Lanka
St Lucia
St Vincent & Grenad
Suriname
Sweden
Switzerland
Taiwan Province of C
Tajikistan
Tanzania
Thailand
Tonga
Trinidad and Tobago
Turkey
Turks and Caicos Isl
Uganda
Ukraine
United Arab Emirates
United Kingdom
Uruguay
USA
USA ALASKA
Uzbekistan
Venezuela
Attention, à l'exception de la Martinique, Familink ne fonctionne pas encore dans les DOM et TOM.