Do I have to buy a SIM card?
No you don't have to, Familink frame comes with an international SIM card, already prepared.
Can we be several people to share photos on a frame?
Sure ! Familink was made for the whole family. When you buy the frame, you can invite your siblings, cousins, or friends to share pictures. You just have to fill their email address.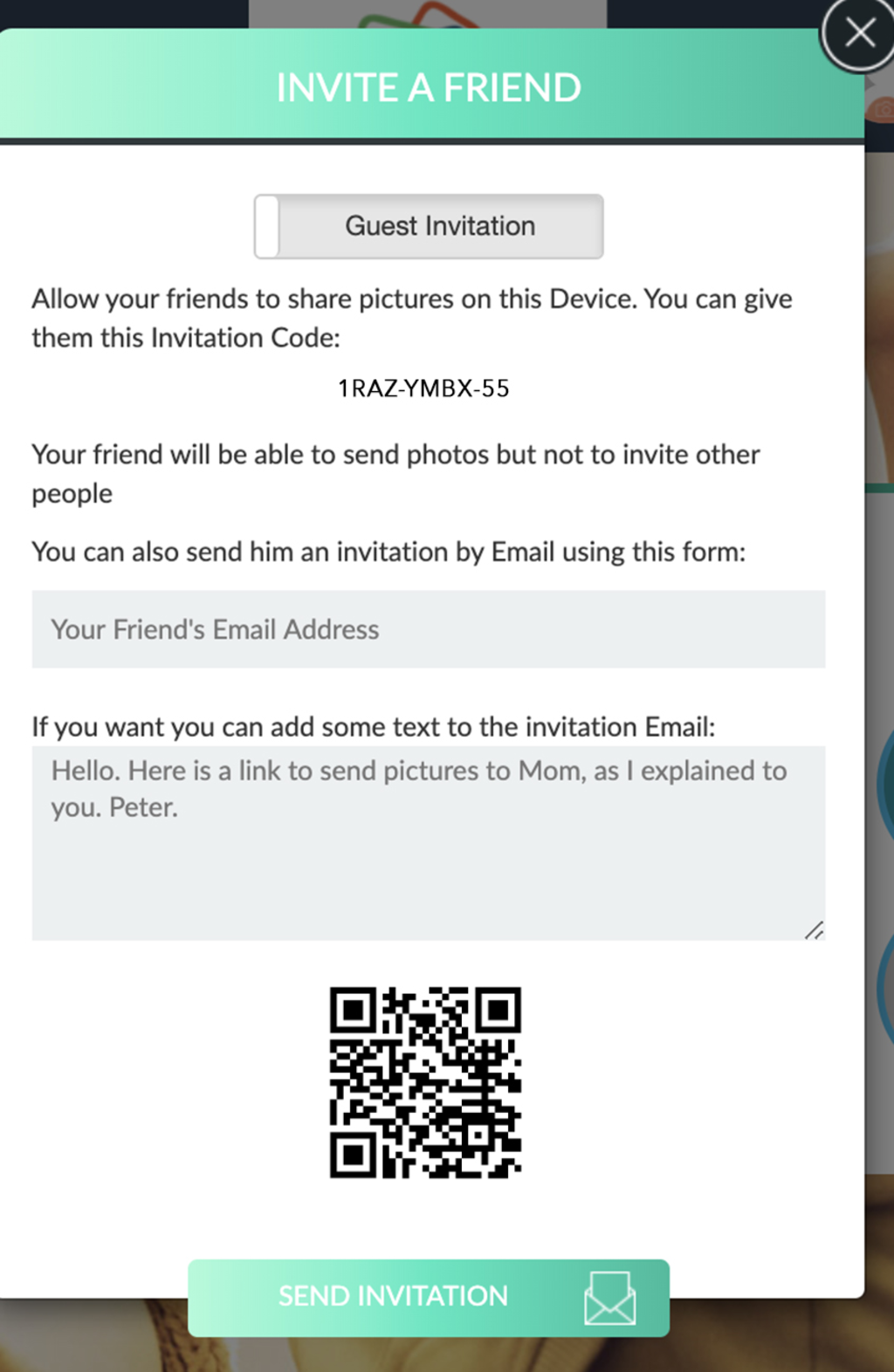 Is Wi-fi needed for the frame to work?
No, Familink can work with the 3G/4G service thanks to the SIM card inside. Therefore, it is possible to connect the frame to Wi-Fi.
Is there a maximum amount of picture we can send?
The SIM card permits to receive 10 photos per day if the frame is connected on 3G/4G and no limited amount if the frame is connected to Wi-Fi. We recommend sending pictures frequently rather than many at once.
Familink frames can store up to 10 000 pictures.
Is a subscription needed ?
Yes and no. Familink offers 3 months of subscription. It starts as soon as the frame is on. After 3 months of use, you have to pay 3,90€ (all taxes included) to keep using the 3G/4G service. Otherwise you can set parameters for the Wi-Fi access, then the service is completely free.
Is it necessary to have a smartphone to use Familink?
No, Familink was made to be as simple as possible. With Familink, you can share pictures different ways:
Does Familink work abroad ?
Yes, the device has an international SIM card which works in more than 100 countries.
It means you can use the frame in any of these countries without having to set the Wi-Fi. If you have a Wi-Fi access near the frame, then it can work in the whole world.
Is it possible to send videos?
No, not yet.
What happens if I send a picture while the frame is off?
The picture will be received when the frame is on. When you send a picture, you don't have to worry whether the frame is on or off. You can check on the Familink interface if your picture has been received.
Is it possible to send my pictures on different frames at the same time?
Yes, if you control several Familink frames, it is possible for you to select various recipients.
Can we scroll photos?
The default value does not swipe pictures. The frame displays the last picture received. You can swipe the screen with your fingers.
If after 48 hours (adjustable setting by distance) there was no new picture, the frame will initiate an automatic scrolling by displaying a random picture among the previous pictures, 1 photo every 4 hours. (you can adjust the settings).
These settings can be adjusted from the frame's settings, on the web interface or on the mobile app.
What is the size of the Familink frame?
20 cm wide, 14 cm high, and 4 cm deep. The screen is a 7" and is 10 × 15 cm, with a resolution of 1024 × 600.