2020-04-27
We are very pleased to announce this collaboration between Familink and WhatsApp! Indeed WhatsApp represents many of our values: It is an ad-free, private and secure application. Many families use WhatsApp to share every moment of their lives. WhatsApp is also an application that we appreciate for its simplicity, an example to follow.
From now on, you will be able to send your photos from WhatsApp directly to your Familink frame, without using our application or website. Of course this is not mandatory and you can continue to use our website or application.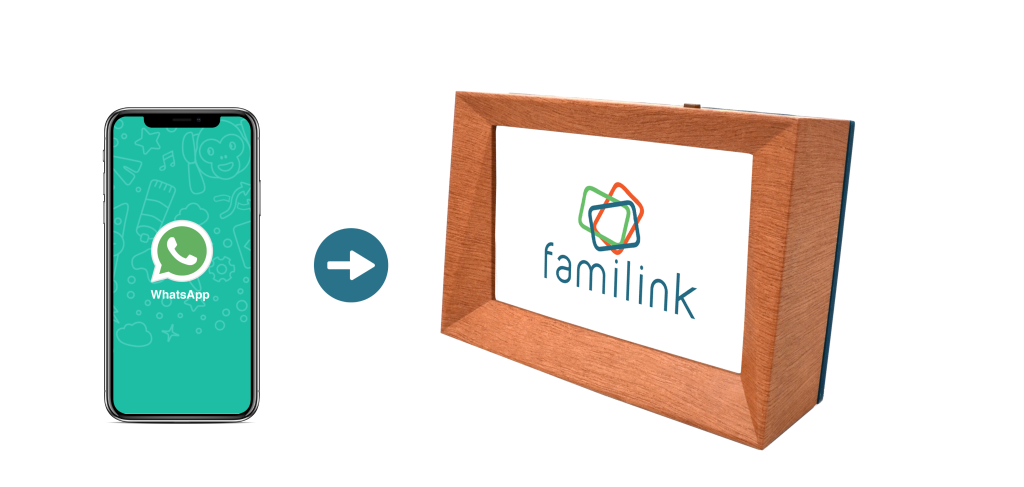 Wanny try? Just input your phone number below
What for?
With this feature, you will be able to send your photos to your Familink frame in the same way you would send an image via WhatsApp. This allows you to transfer a photo received from a WhatsApp contact to your family's Familink frame.
Familink is adaptable to all uses and habits: mobile app, Website, Email, Facebook messenger and now WhatsApp!
A few things to note:
It is possible to send pictures by WhatsApp on multiple frames. If you have multiple frames, the robot will ask you which frame(s) to send the pictures to.
It is not possible to create a WhatsApp group with our WhatsApp number.
As usual with WhatsApp, you benefit from end-to-end encryption - your photos are not visible to others.
Getting started
Here's the procedure:
Start by saying hello to our WhatsApp robot at: +1 514 907-8777. This is a unique number, common to all our users, for all our devices. You can also click on this button directly from a smartphone.

If you already have an 8-character WhatsApp code (available on the web interface), enter it.

If you do not have this code but already have a Familink account associated with a frame, simply enter your email address

If you don't have a Familink account yet, enter your frame's purchase code or a 10-digit invitation code.

Follow the instructions:
You can also associate from the mobile application by clicking on the association button.